| | | | | |
| --- | --- | --- | --- | --- |
| | The Woodcrafter Page - Copyright ? 2004 - Keith Davies. All rights reserved. | | The Woodcrafter Page - Copyright ? 2004 - Keith Davies. All rights reserved. | |
Cookie Jar
or Kitchen Canister Set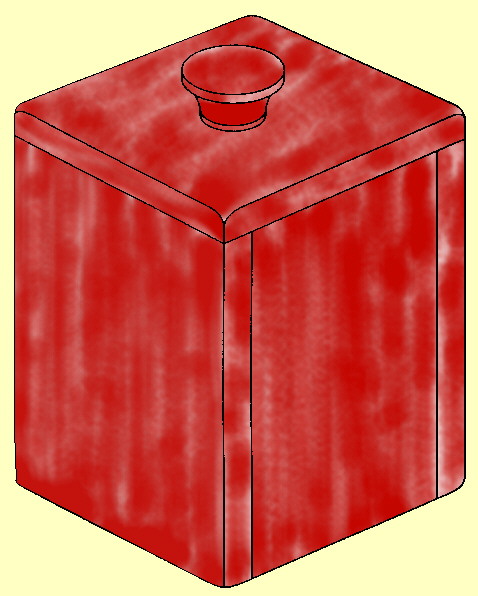 Here is project for a popular style wooden cookie jar you can build in one weekend. You can even vary the dimensions to make a lovely wooden kitchen canister set (this makes a great gift). The most popular wood used in these is a high quality clear pine but I recommend a nice hard wood such as Rock Maple or Rosewood. Be sure to carefully select wood with no knots or defects and pay careful attention to the grain in the wood. Avoid really wide open grain patterns - close grains look best in the finished item. Also, the grain should run vertically in the finished products.
The actual directions are for a single cookie jar 5½" by 6¼" by 8" tall. However you can create a canister set by varying the dimensions or change the size of the cookie jar. Simply be careful to increase the dimensions on all affected pieces. It helps to sketch out the new dimensions. The best canister sets are built to hold plastic rectangular food containers so the contents stay clean and do not permeate the inner wood surfaces. If you do not use inner containers, be careful to leave the inside unfinished (not advisable) or use food-safe finishes.
Construction.
Download the Adobe Acrobat .pdf file by clicking here.
* * * * Click on any picture above to download a higher resolution picture. * * * *
*********** WARNING***********
Read my page on safety before building this item.