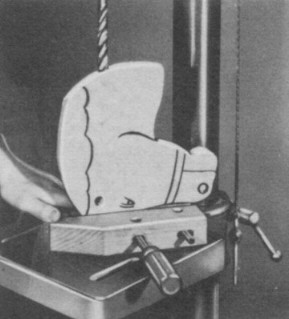 Photo #2
An easy way to hold the horse's head while drilling the dowel hole is with a hand screw as shown.
Draw the horse's head features on a piece of butcher's paper by using the squares method and trace it onto the plywood. Cut out the head on the scroll or band saw. Drill a ½ inch hole about 3 inches deep at point indicated on the drawing. You can hold the stock while drilling the hole on the drill press with an 8 or 10 inch hand screw (see photo #2). Finish natural with two coats of white shellac and a coat of spar varnish.

Woodcrafter's Note:
ALWAYS use a child safe finish even if you do not have small children at home. Visitng toddlers may chew on items such as this.