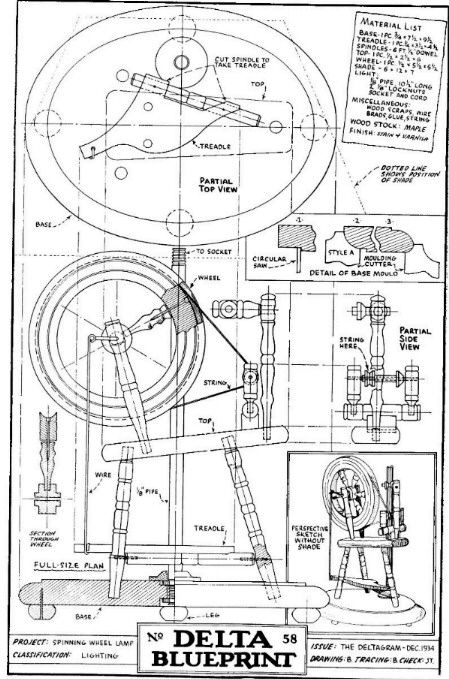 * * * * * * * * *
Click on the picture above to download a higher resolution picture.
* * * * * * * * *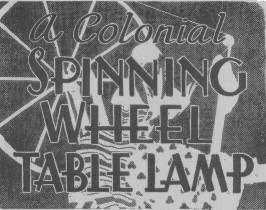 For light or for decoration, this spinning wheel table lamp adds a refreshing note to almost any setting. It works too! Indeed, woe betide the craftsman who dares make one so that the wheel will not go 'round and 'round under the gentle urgings of Mr. Average Person's inquisitive fingers.
The construction can start almost anyplace, and with the possible exception of the base and the wheel, the stock can be salvaged out of the scrap heap. If you work with new materials throughout, it somewhat simplifies matters to use stock dowel rod of the required size for the various spindle turnings. The stock can be gripped in the lathe drill chuck, as shown in the center photo, and the turning thereby made ready quickly and accurately.
The final operation in putting the molded edge on the base is shown in the lower photo, This is entirely a product of the circular saw using the molding head, although the work can be done on the drill press with equally good results. The moulding shown, however, is a stock set-up for the circular saw, and requires but three runs to produce the finished edge, as detailed in the blueprint on the opposite page.
Once the various pieces are complete and nicely sanded, the assembly goes forward in a natural manner, working from the base up. In putting the wheel together, you will first glue the spindles to the hub and then brad the assembly inside the rim, as shown. Finishing nails serve nicely as axles. And a length of 12 or 14-gage wire makes the connecting rod. The light, itself, is simply a matter of an ordinary socket f one-eighth inch pipe which is held to the base by means of two lock nuts.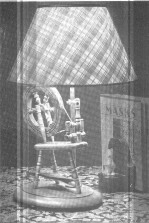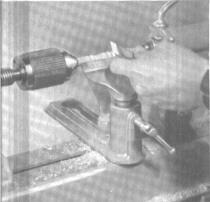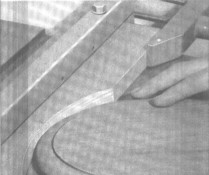 Bearing the original in mind, the wood stock should be maple throughout, and the finish rubbed down to give the piece a well-worn look without marring the general contours. The lamp standard and the exposed axle and connecting rod should be painted a warm brown in order to harmonize with the general coloring of the maple lumber stock. Follow the shade size which is shown in the blueprint or something equally Early American.