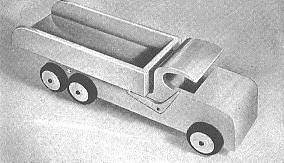 The upper photo shows the truck bed in down
position. Note position of lever.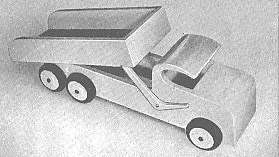 The truck bed which is pivoted on a flat head
wood screw, is raised by pushing the lever down.
The bed is held in this position by engaging the
lever in the slot of the bed (See line drawing.)
INSTEAD of the usual solid block type toy, this truck is built up of 1/2 inch stock. It is not only light, but sturdy as well. The body parts are glued and assembled, and then cut to shape and sanded as shown in the drawing. The wheels can be turned from 3/4 inch stock, cut on the band saw and finished to shape on the lathe. Break all sharp corners with sandpaper. Finish the entire truck with a bright enamel. Paint the tires black.