| | | | | |
| --- | --- | --- | --- | --- |
| | The Woodcrafter Page - Copyright ? 2004 - Keith Davies. All rights reserved. | | The Woodcrafter Page - Copyright ? 2004 - Keith Davies. All rights reserved. | |
IQ Peg Game
| | |
| --- | --- |
| The actual finished item. | This is a basically simple project but drilling the holes accurately is a little difficult without a drill press. Only adult woodcrafters should use a drill or drill press to make the holes. The base is cut from a 3/8" (or 1/2") pine planking scrap. |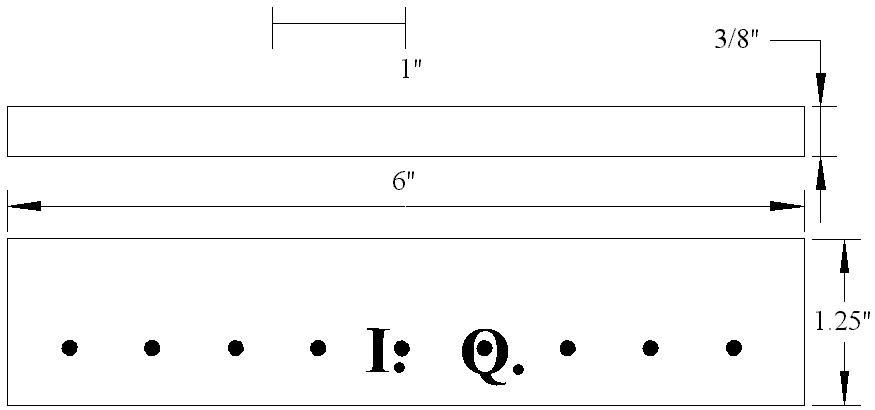 Print out the diagram and tape it to the 1/2" wood stock. Leave the diagram in place as a guide for cutting the base to the specified size. The Jr Woodcrafter will need a hand drill and the proper size bit. Use the dimple marks to locate and drill each hole. These holes need to be big enough the golf tees stand well but do not stick (about 1/8" diameter). Now all your Junior Woodcrafter needs is the base piece, the template, 8 golf tees, one finishing nail (dulled), a hammer, a hand drill, one drill bit, one counter sink bit, one sheet of 150 grit sandpaper, a really cool workshop apron small enough for kids, and safety goggles.
Construction.
1. Tape the diagram to the precut 1/2" wood triangle.
2. Use a small hammer and a dulled finishing nail to mark each hole location with a 'dimple'.
3. Remove the diagram.
4. Use the dimple marks to locate and drill each of the fifteen (15) holes.
5. Watch closely to ensure you are drilling the hole straight into the wood..
6. Drill about half way through the wood.
7. Be very careful to NOT drill all the way through.
8. Use a counter sink bit to slightly bevel the top of each hole.
9. Sand all surfaces to a smooth finish.
10. Be sure to sand the sharp corners off completely to a soft round shape.
11. Print up the game directions and tape or glue them to the bottom.

Game play (1 player):
Place red pegs into the left 4 holes & blue pegs into the right 4 holes.
Leave the center hole empty.
Try to switch the pegs from one side to the other moving forward one space at a time.
Four moves or less = Genius.

* * * * Click on the picture above to download a higher resolution picture. * * * *
*********** WARNING***********
Read my page on safety before building this item.