| | | | | |
| --- | --- | --- | --- | --- |
| | The Woodcrafter Page - Copyright ? 2004 - Keith Davies. All rights reserved. | | The Woodcrafter Page - Copyright ? 2004 - Keith Davies. All rights reserved. | |
Here is a really nice Animated Weathervane.
It is fairly large but truly unique.
I adapted the plans for a child's playtoy and replaced the crank with the blades.
This project requires EXTREME precision, high quality tools and attention to detail.

Cowboy Animated Weathervane.

This project is for very experienced woodcrafters.
When the propeller turns, the dog spins around. The cowboy lifts his arm and 'snaps' the whip in his hands
making the horse rear up on its' rear legs.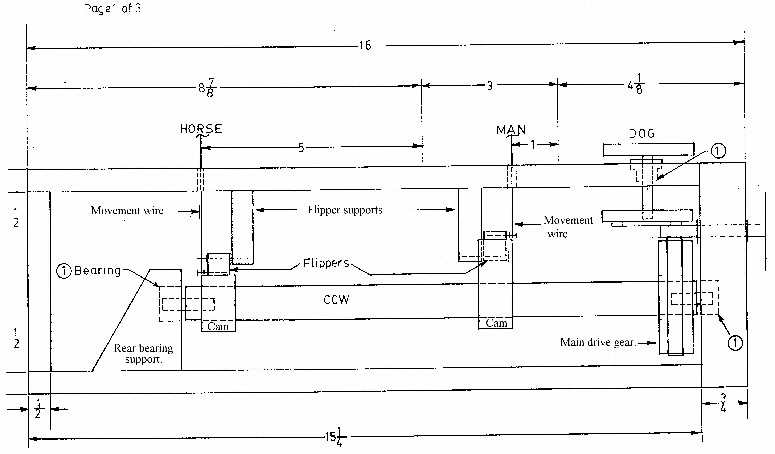 The mechanics of it all.
The operation is driven by the propeller. A thick - durable rubber band on the large gear of the main driveshaft
ensures a good high friction connection with the propeller. Flippers run on the cams and wires connect the
flipper to the moving parts above. This gear needs a slight concave to keep the rubber band from 'walking off'
the gear. The cams need to be timed so the cowboy's arm drops just before the horse rises.

The directions include all three diagrams in an Adobe Acrobat file (pdf).
The complete directions are now here and include full details.
I have detailed instructions on making the propellers on my main projects page
Click on any diagram (above) to download the Adobe Acrobat file.
I suggest you download the entire Acrobat file as it contains all the templates to scale and in actual size.
You will need to tape two sheets together for the full size templates.
Detailed Instructions
for the less than expert builder are available in my Detailed Plans Page area.

*********** WARNING***********
Read my page on safety before building this item.